It's that time again when I introduce you to some more new music and this time its from the New York band Black Satellite. Petar Krsikapa (vocals), Juan Cardenas (guitars), Rik Cava (bass) and Frank Juan (drums) decided they had a sound that the world needed to hear. With this goal in mind, they used their musical experience from previous projects to create their 2014 debut EP 'Don't Forget My Name'. This is a strong collection of songs which showcases their sound perfectly, a blend of blues rock with a hint of pop thrown in. When you hear the songs 'Red Lights' and my personal favourite 'Shame' you will understand why it has been receiving great reviews.
The guys have recently released their follow up EP 'Infinite Delusion' but before I share my thoughts I want to share a little chat I had with them. We talked about beginning of the band, their music and a little more. This is what they had to say:
How did Black Satellite come together and is there a story behind the name?
The band started in a meeting between three former members of The Dream Station (Juan Cardenas, Rik Cava and Frank Juan) who realized their chemistry and friendship was too good to be wasted, and decided to get back together and play music again;  this time with a different concept in mind, a more bluesy alternative rock type of sound. We began writing songs in early 2014 and a few months later we started auditioning singers and met our awesome sexy frontman Petar Krsikapa (former member of Stone Fire). Summer of 2014 was our first show and the rest is history…
The name came from our bass player Rik Cava. He's always been fascinated by aliens and space stuff. Black Satellite is based of a myth/legend that there was a mysterious ancient satellite orbiting our planet and transmitting old radio waves. They called it Black Knight Satellite. The story gets more profound with rumored NASA missions sending astronauts to intercept the satellite. We can only imagine what they discovered… Hopefully they found a new species rocking out to our music!
How would you describe the bands sound and which musicians have helped influence this?
A fusion of hearty blues, alternative rock with a pop undercurrent that doesn't undermine its complexity and originality. Melodic, fragile, authentic, built with emotion and groove before giving way to powerhouse vocals and screaming guitars. In a nutshell a sound that will make your heart beat a little bit harder.
Some of the bands that have influenced us are: Led Zeppelin, Stone Temple Pilots, Kings of Leon, Radiohead, U2, Pearl Jam, Jack White and The Doors.
Which is the bands favourite song from the 'Infinite Delusion' EP and why?
It's always hard to pick your favorite song from a record. I think it constantly changes. Halo, No Warning and Until the end are a lot fun to play live, Chains is a crowd pleaser, but This Fire is probably the song that set the tone of the EP.
If you could have any musician to feature on a new song (vocals or playing instrument), who would it be and why?
Dead, it will be Freddy Mercury. He was one of the most talented and unique singers in the history of music and so different from our music that we find it very interesting to see what would happen in a recording studio.
Alive, Paul McCartney or Thom Yorke/Johnny Greenwood… who knows what would happen. It will be epic for sure.
What are the bands plans and goals for your music?
Our plan right now is to play more shows during the summer to promote "Infinite Delusion". There is also plans of recording two more videos, possibly for Halo and Chains.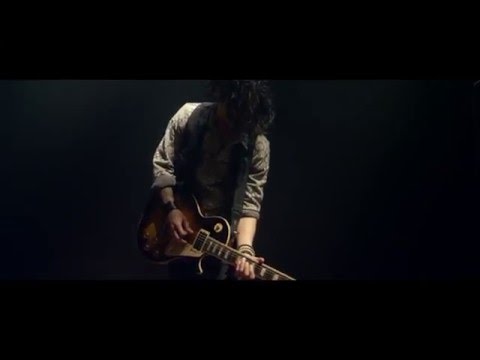 'Infinite Delusion' EP is an evolution in the bands sound. When you press play you can hear a noticeable change with what Black Satellite have created. They still have that killer rock sound that captured a lot of people's attention, but it feels like they have changed the engine as this EP roars! This, in my opinion, is due to a combination of improvement in their songwriting techniques as well as an improved production value.
The first song 'Halo' which is a personal highlight instantly grabs you and says 'Black Satellite are here!'. The drums are thunderous but controlled at times to ease the tempo down when required to let Peter's vocals take the spotlight. The riffs and bass line are equally as good to help give this song its killer edge. This is a combination that is the foundation of this release to give the listener a great rock experience with (like they said) a pop undercurrent to help make their music so easy to enjoy. When listening to all of the songs you also hear how these guys have become stronger with what they bring to the band (compared to their debut EP) and when they blend together they do seem to play to each others strengths. My favourite song 'This Fire' is a perfect example of this as the guys gently pull you in before unleashing the noise! I love the beats on this one as my foot cannot stay still during this song and the guitar solo is epic too! It also has lyrics which are too catchy as I found myself singing along after the first listen.
As well as offering great music on this release it also shows off an improved lyrical talent which is executed perfectly by the vocal skills from Peter. His has an impressive tone that captures your attention and offers power and control with such ease. This is also used to mirror the tone of the lyrics and music on each song, the song 'No Warning' is a good example of this. This talent is used to share some great hooks that get stuck in your head and singing along, in a good way of course. He seems to sound effortless throughout the EP which can be heard on the song 'No Warning' and he also uses it to mirror the tone of each song perfectly.
'Infinite Delusion' EP is a great showing of what Black Satellite have to offer, so do yourself a favour a head over to their Soundcloud page to listen to it in full. If your ears like what they hear then head to the usual online stores of Amazon and iTunes to grab a copy today!
I know the guys are always busy with their music, either by working on new tunes or performing live. I am sure that even though they have recently released their new EP it won't be long before their will be a new one for us fans to enjoy. To find out if this will happen or you want to learn more about Black Satellite including future gigs then head to their website Black-Satellite.com. You can also find this information through their social media sites at Facebook and Twitter. As always, a little reminder to support the music that matters to you. If the music of Black Satellite ticks all the right boxes for you then help spread the word about them today!